Game Programming Design
2018 Spring
Main Textbook
Unity 3D 遊戲設計範例講堂 - 人氣遊戲這樣做!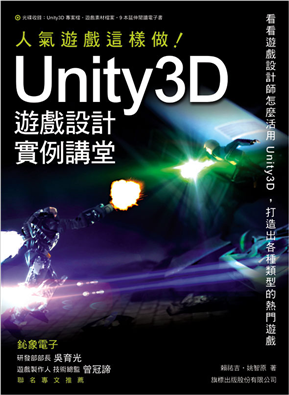 http://www.taaze.tw/sing.html?pid=11100724362
Grading
Quiz 7 (5, 5, and 5 %) (15%)
Homework 3 (15, 15, and 15%)(45%)
Final project (40%)
Homework
Tank War / Maze
期末Project分組評分表:
https://docs.google.com/spreadsheets/d/1lEy6msf-e6ypXqIzcBAs3kEoeDRT04jviUB2d0byAa0/edit#gid=0
Syllabus
Introduction to the class
Mobile game overview
Introduction to Unity 3D
Introduction to OpenGL viewing and transformation
Introduction to OpenGL texture mapping
Introduction to OpenGL blending
Introduction to OpenGL color and local illumination
Introduction to Unity Fundamental
Introduction to Unity 3D programming
Unity3D script system
Unity3D physics.
Unity3D advance features
Copyright © 2020 NTUST CSIE Computer Graphics Lab. All right reserved.